Here at Skeetchestn Community School, just past Savona, B.C. on the Skeetchestn First Nation Reserve, we are planning our school garden. The journey began when our Chief, Ron Ignace, met the Kamloops Region Farm to School Community Animator, Keira McPhee at the Community Innovations Lab event at Thompson Rivers University.
When she explained how the Farm to School program works, he mentioned that there are plants growing wild in the hills near our school that are traditional foods and medicine of the Secwepemc people, and that perhaps our school could participate in the program and incorporate these traditional plants to help students learn about their culture and history. It's a wonderful opportunity to give our children a tangible link to the past, while also creating a legacy of their own through the work they will do to design, create and maintain a garden that will be at our school for years to come.
Partnerships We are fortunate to have many community partners who support our dream to bring local food to the students and staff here at SCS. Our Chief and Council have provided us with a greenhouse, our Maintenance Department built shelves in it and will install plumbing soon. We have purchased equipment for starting up our planting and looking after our garden, including seeds, tools, a wheelbarrow, gloves, etc. We will need to put up a fence at some point, and again we can count on the support of the community to help us get that accomplished.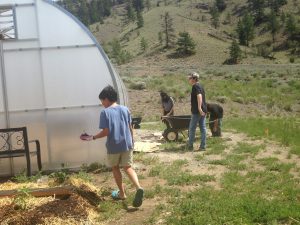 Our K-7 students recently toured Paula and Mendel Rubenson's organic farm, which is located here in the Skeetchestn valley. The Rubensons are local farmers with strong community ties. They operate a business that includes a veggie box program and are long-time vendors at Kamloops' Farmer's Market. Their grandchildren attend our school and they've been a wonderful source of knowledge and guidance from the beginning of our journey.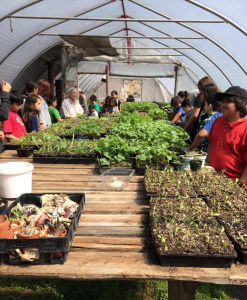 Several Elders have expressed interest in teaching the students the ways to use traditional plants and are very excited that this program is getting underway. Local fishermen and hunters have donated their catches to our school, under guidance from Erin Maze, our Health Authority representative. Our school cook, Tammy Lougheed, has extensive gardening expertise and has plans to devote a portion of our food budget to locally sourced food beginning in the 2016-17 school year. We have been involved with the B.C. Fruit and Veggie program for several years.
Our grade 5, 6, and 7 students recently participated in a workshop with Farm to School Community Animator and the Kamloops Food Policy Council to design a space that would incorporate garden beds, areas to learn outside of the classroom and places to play and relax amidst the beauty of our garden and the beautiful valley we are situated in. The students made a video of their growing adventures so far:
We also planted some seeds in the greenhouse including a variety of vegetables and flowers as well as traditional tobacco that is used in ceremonies or as an offering to Elders, the land, etc. This has given the students a sense of leadership as they nurture the plants and share their knowledge with younger students, showing them how to plant seeds and care for them.
Challenges It is hard to be patient and do the preliminary work when you are just getting started. Things take time, and schools are very busy, so incorporating our Farm to School program takes a lot of dedication and determination…class time devoted to the garden needs to be a justifiable learning experience. It's important that all staff feel good about their role in relation to finding ways to use the greenhouse and garden for lessons, etc. We recently dedicated one of our professional development day at the school on the school garden.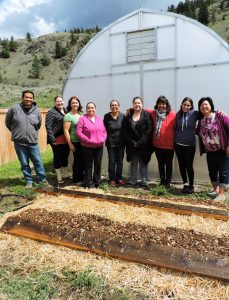 The students of Skeetchestn School have only just begun their garden project, but already they understand the importance of local, healthy, sustainably produced food to their well-being. They know that producing your own food can lessen pollution and help create habitat for pollinators and other wildlife. We plan to build bird and bat houses as well as create a sanctuary for butterflies and other beneficial insects. We know that our garden will offer a peaceful retreat for art or writing, and that it will give us a sense of ownership and pride as we monitor it and watch it thrive!
Thank you to everyone at Farm to School for giving us the opportunity to be a part of this wonderful program! There's so much to look forward to, it's going to be great!